PORTAL GUN: "A gun that creates a portal."
Category: Weaponry
Rarity: 1
Stack Limit: 1
Can I find it in a Loot Box? No
Placeability:
Item may be carried or worn.
Crafting:
EVENT-ONLY ITEM.
Other:
Few own this item... When you die it can be dropped so watch out!
Photos: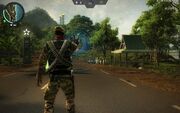 The portal gun works just like in
Portal
, one portal links to the other.
Photos by Lightningblizerd
Ad blocker interference detected!
Wikia is a free-to-use site that makes money from advertising. We have a modified experience for viewers using ad blockers

Wikia is not accessible if you've made further modifications. Remove the custom ad blocker rule(s) and the page will load as expected.